Bitcoin price and Ether both declined, while the correlation between them moderated slightly
Bitcoin price recently declined 0.42% on moderate daily volume. Overnight prices traded in a tight range between $19,500 and $19,800. Prices declined 0.85% before reversing the course during the next hour. At the time of writing, BTC is changing hands at $19,951.
BTC/USD 4-hour chart | Source: TradingView
Bitcoin price and Ether Close the Week Lower
For some traders, a weakening relationship can signal a fundamental change between two assets, causing the traders to reevaluate their investment strategy. For others, it may represent a short-term dislocation in price that can be exploited upon expectations that the correlation will again strengthen.
"1.69M total Bitcoin (currently the equivalent of $33.5B) was moved to exchanges from September 7th to 13th. This was the highest amount of BTC moved since October 2021", Santiment reported.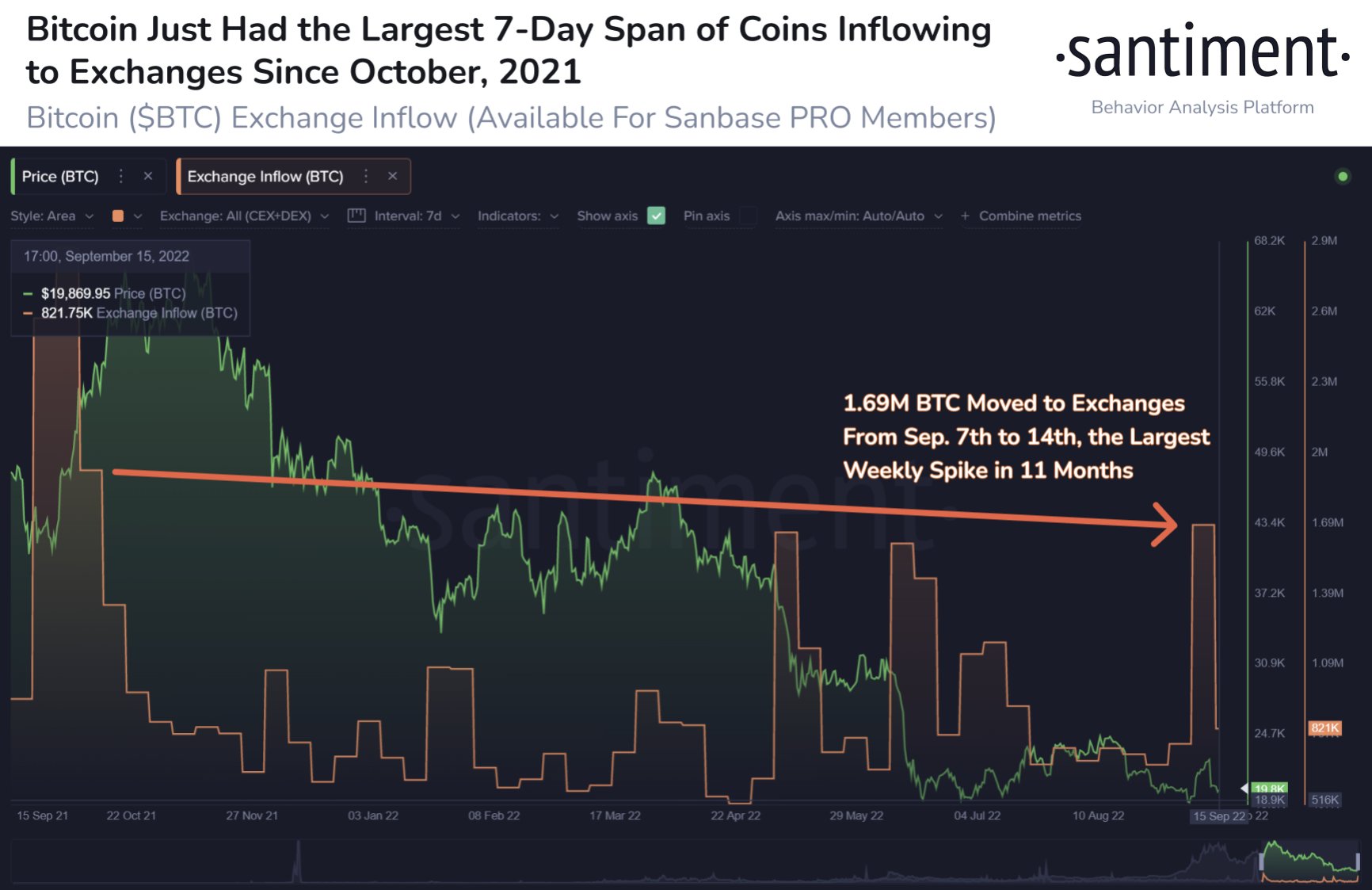 Ether (ETH) fell 3% on Friday, marking the fifth decline within the last six trading days. Trading volume for the second-largest cryptocurrency by market cap after bitcoin aligned with its average daily volume over the most recent 20 days.
The 30-day correlation coefficient between BTC and ETH declined to 0.77, its lowest level since June 12. The correlation coefficient measures the relationship of price movement between two assets and ranges between 1 and -1. A correlation of 1 implies a direct relationship between assets, while a correlation of -1 signals an inverse relationship. A declining correlation, as is the case here, represents a diminishing relationship.
The overall cryptocurrency market cap stands at $965 trillion, and Bitcoin's dominance rate is 39.5%.
Read more: