Bitcoin closes 9 red candles weekly – Altcoins turn green but not enough to recover losses
Bitcoin continues its unprecedented bearish streak ending May 29 in an all-day range.
The largest cryptocurrency has set a new record by closing the 9th consecutive red candle on the weekly chart. It has dropped more than $22,800 since March 28, from the $48,222 high to the $25,365 low. BTC still looks weak for now.
BTC/USDT weekly chart. Source: TradingView
Investor confidence has been severely damaged by Terra's LUNA and UST death spirals.
Although Terraform Labs has successfully airdropped new LUNA tokens to LUNA and UST holders before, it has not been able to improve market sentiment.
The Fear and Greed Index is at its lowest level while trading volume continues to dry up.
Indeed, Bitcoin seems to be in a precarious position with investors showing little interest. $29,000 was held as support for nine weeks, but if BTC loses such an important foothold, then a 22% drop towards the 200-week moving average of around $22,300 is likely to materialize.
Correlation between stocks does not provide comfort for BTC bulls
Even the stock markets, baffled by central bank tightening, managed to post gains for the week,
while Bitcoin and most altcoins add to losses. QCP Capital wrote in its latest edition released on May 29:
"Most concerning has been the divergence between Equities and Crypto. S&P and NASDAQ have traded about 10% higher since May 20 lows while both BTC and ETH have traded lower in the same period. This is not the direction of decoupling we were hoping for!"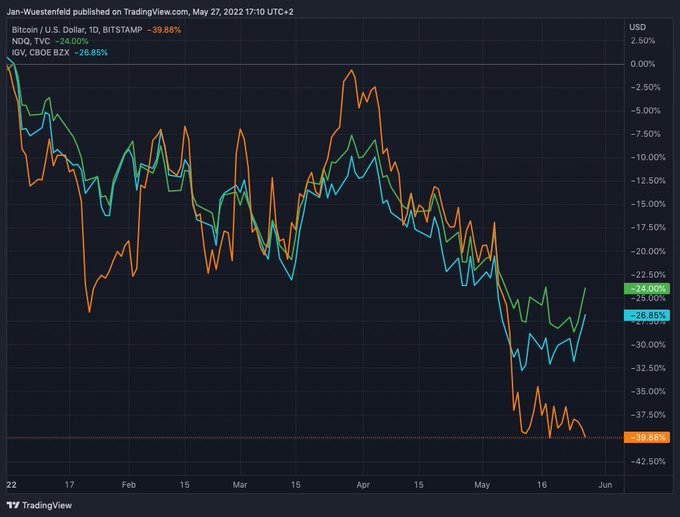 Source: Twitter
QCP echoes the current view on Bitcoin's underperformance relative to previously highly correlated stocks.
Popular Twitter account Il Capo of Crypto predicts increased pressure from these indexes which are currently experiencing a sell-side conflict of their own.
"Last time SPX rallied making a new high while $BTC was making lower highs, we saw bearish continuation once SPX reversed. Now SPX is at resistance".
Altcoins turn green but not enough
ETH is currently struggling at the descending line that has provided both support and resistance for over a year. This line has halted the downside momentum during the recent sharp sell-off, so the bulls are bound to defend this line to avoid further declines.
At the time of writing, ETH is trading around $1,800 and is up over 2% in the past 24 hours. Prior to that, the largest altcoin slipped to lows below $1,700 on May 27, increasing weekly losses by more than 10%. As of now, ETH has printed 8 consecutive red weekly candles.
ETH/USDT weekly chart. Source: TradingView
All other altcoins follow Ethereum's price behavior, as it has acted as a guide to the altcoin market in the past.
As the queen shows signs of recovery, altcoins in the 100 are also turning green with typical tokens like DOT (+9%), AVAX (+11%), XLM (+10%), GMT (+20%), MINA and OMG all gained 10%.
Source: Coin360
Read more: