Another dormant Ethereum wallet has awakened in past 24 hours, here's how much ETH has been moved
A pre-mine Ethereum address with 200 ETH ($282,115) has been revived after 7.2 years of hibernation. Whale Alert has spotted an awakened Ethereum wallet that had stayed dormant since late 2014.
Ancient Ethereum Address Activated After 7 Years
💤 A dormant pre-mine address containing 200 #ETH (282,115 USD) has just been activated after 7.2 years!https://t.co/aIMHP6Peml

— Whale Alert (@whale_alert) October 25, 2022

The crypto contained in the wallet was pre-mined, so this may be one of the early Ethereum investors who bought this ETH during the ICO that took place in late July to early September 2014.
Another Ethereum wallet containing 1,947 ETH ($2.8 million at current prices) was also activated in February. It is worth noting that the Ethereum network turned seven on July 30. The highly ambitious project back in 2015 following an $18 million crowd sale.
The owner of this wallet has now moved 200 pre-mined ETH valued at $282,115 after 7.2 years of inactivity. This is the second wallet that had lain dormant for a while before "awakening" only recently. Following this tweet from Whale Alert, the data producer Santiment shared that an ETH address had transferred 15,000 Ethers, or almost $22.2 million, to an empty wallet.
"An Ethereum whale wallet that had not been active for 6+ years woke up today & moved $22.2M worth of $ETH to an empty wallet. ETH's price is +8.1% since this transaction, briefly jumping over $1,500 for the 1st time since the Merge 6 weeks ago", Santiment reported.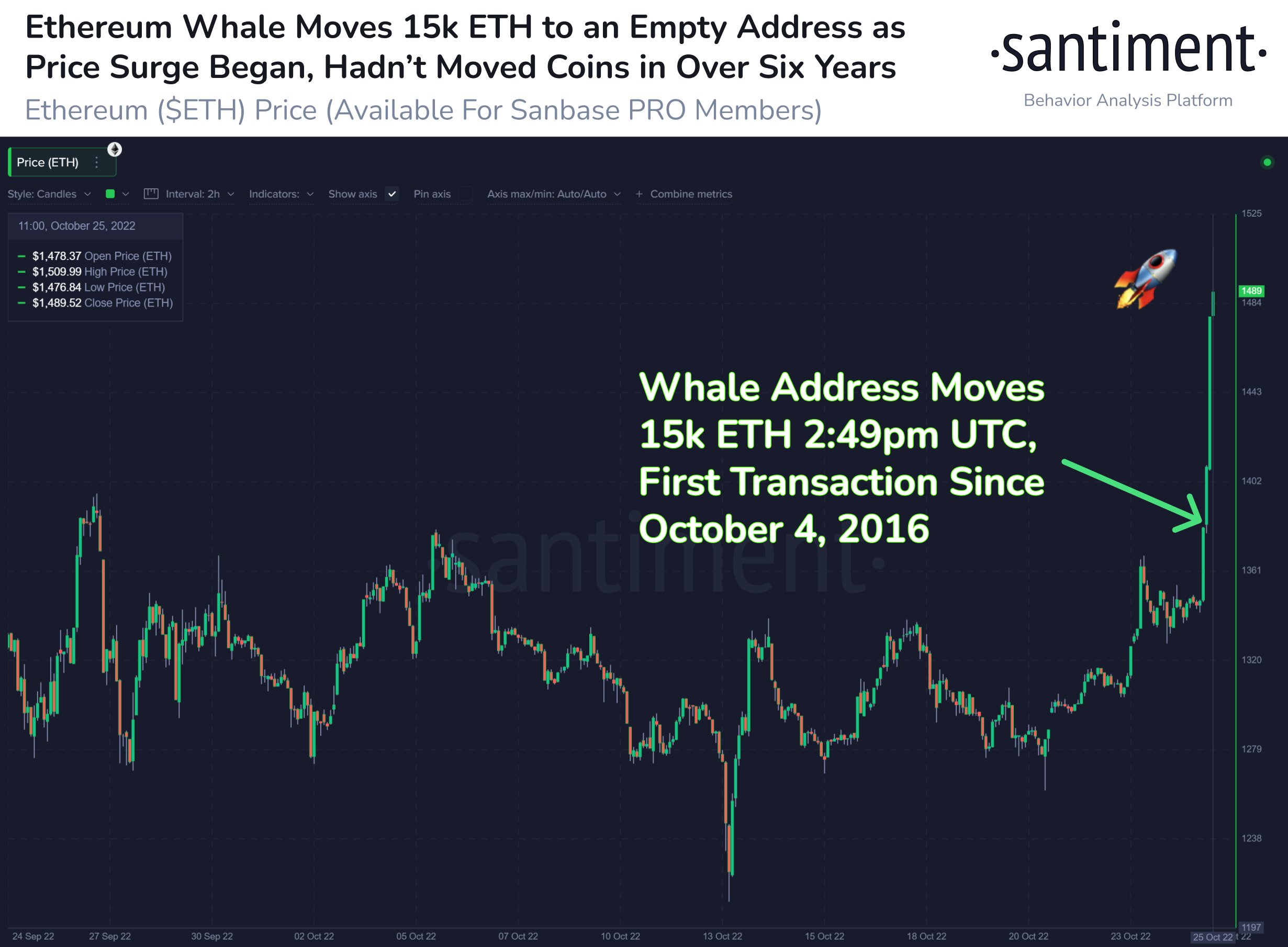 Overall, before the launch of the blockchain in 2015, 72 million Ethers were pre-mined, and since then, 40 million ETH have been paid out to miners. This makes the total supply, by now, equal to 142 million coins.
Read more: