After slumping to an intraday low of $19,764, Bitcoin price has climbed back above $20,000
In the ongoing tug-of-war between the forces driving bitcoin over $20,000 and those dragging it below.  Bitcoin price was recently trading at about $21,100, a more than 5% increase over the past 24 hours that helped the largest cryptocurrency regain much of the ground lost the previous day. At the time of writing, BTC is changing hands for $21,237.
BTC/USD 4-hour chart | Source: TradingView
Crypto stabilizes as Bitcoin price retakes $20,000
After slumping to an intraday low of $19,764 on Wednesday, Bitcoin has climbed back above $20,000.
The largest cryptocurrency by market capitalization was recently trading at $20,314, down 0.4% over the past 24 hours. The $20,000 price point remains pivotal as analysts debate whether BTC will see further declines akin to 2013, when BTC fell by 85%, and to 2017 when it tumbled by 84%. If BTC experiences a similar fall this time around, it could see prices drop close to $10,000.
Bitcoin traded at $20,900 in the afternoon, while some altcoins surged on positive news and improved sentiment.
"The amount of unique addresses interacting on Bitcoin's network hasn't fallen off nearly as much as it may seem after a near 70% price retracement since November. The divergence between active addresses and price was last this high in December 2020", Santiment reported.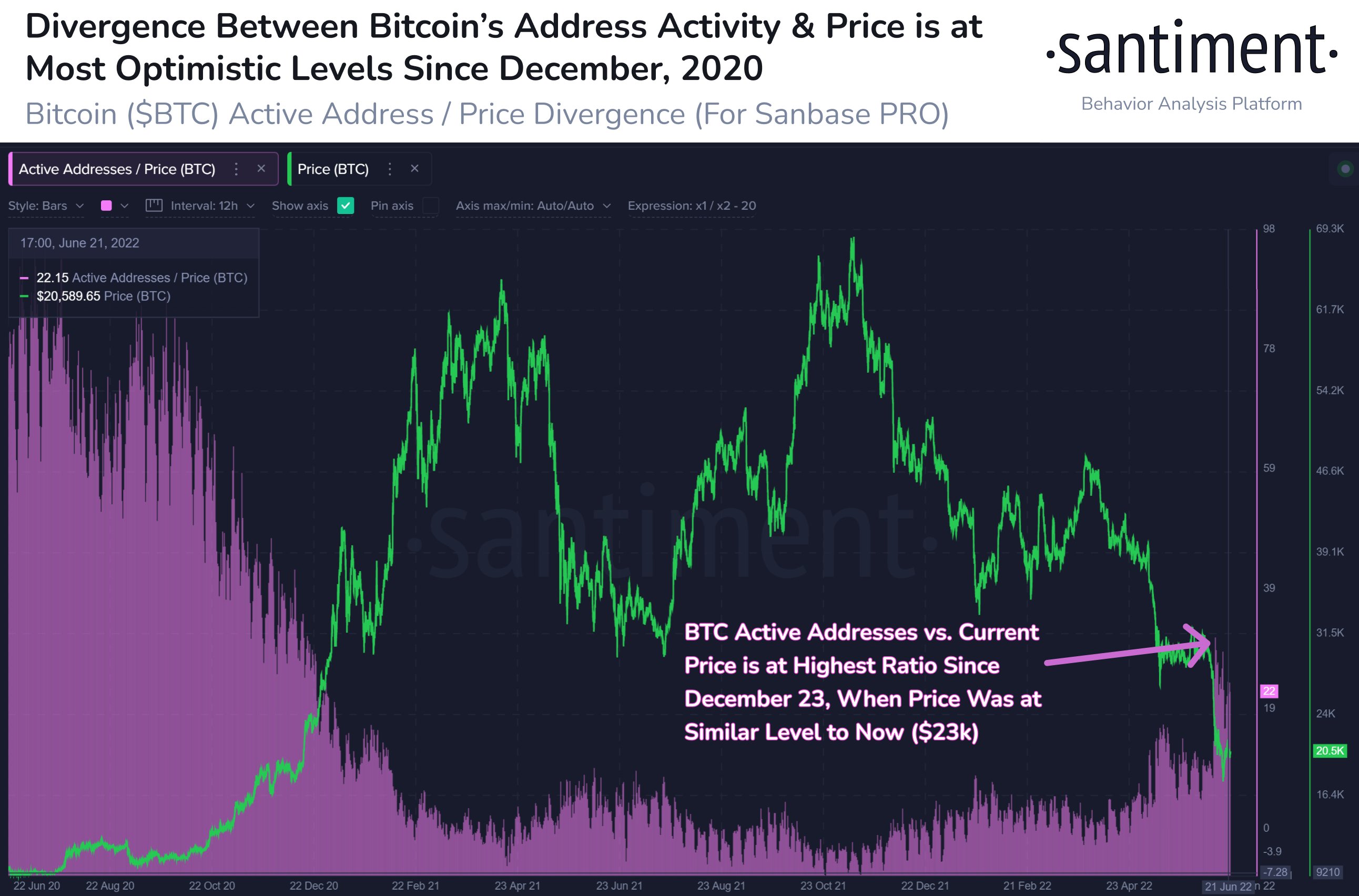 While ether (ETH), the second-largest cryptocurrency by market capitalization, was up about 5.5% at above $1,100. Other major altcoins assumed various shades of green with STORJ and POLY assuming two of the darkest hues, rising more than 30% and 20%, respectively at one point. MATIC, the native token of Ethereum-scaling platform Polygon, jumped 19% in the last 24 hours after Polygon introduced improved privacy for decentralized autonomous organizations (DAOs) on its network. The Cosmos network's token, ATOM, gained 12% after decentralized exchange dXdY announced it would build its own blockchain with Cosmos, ditching Ethereum.
The overall cryptocurrency market cap stands at $942 trillion, and Bitcoin's dominance rate is 43%.
Read more: