A whopping 320,000 ETH were moved on that day as Ethereum saw its largest transaction volume spike
Santiment claims that on Thursday, October 20, a significant amount of coins were transferred between whale addresses on Ethereum. It stated that day saw ETH's highest transaction volume increase, with a staggering 320,000 ETH moving hands.
320,000 Ethereum (ETH) Moved by Whales, Here's How Ethereum Price Reacted
"Ethereum saw a considerable amount of token shuffling between whale addresses on Thursday, which occurred right at a local top. Seven hours after the move of 320,000 ETH, the price touched down to $1,260, and then bounced considerably ever since", Santiment reported.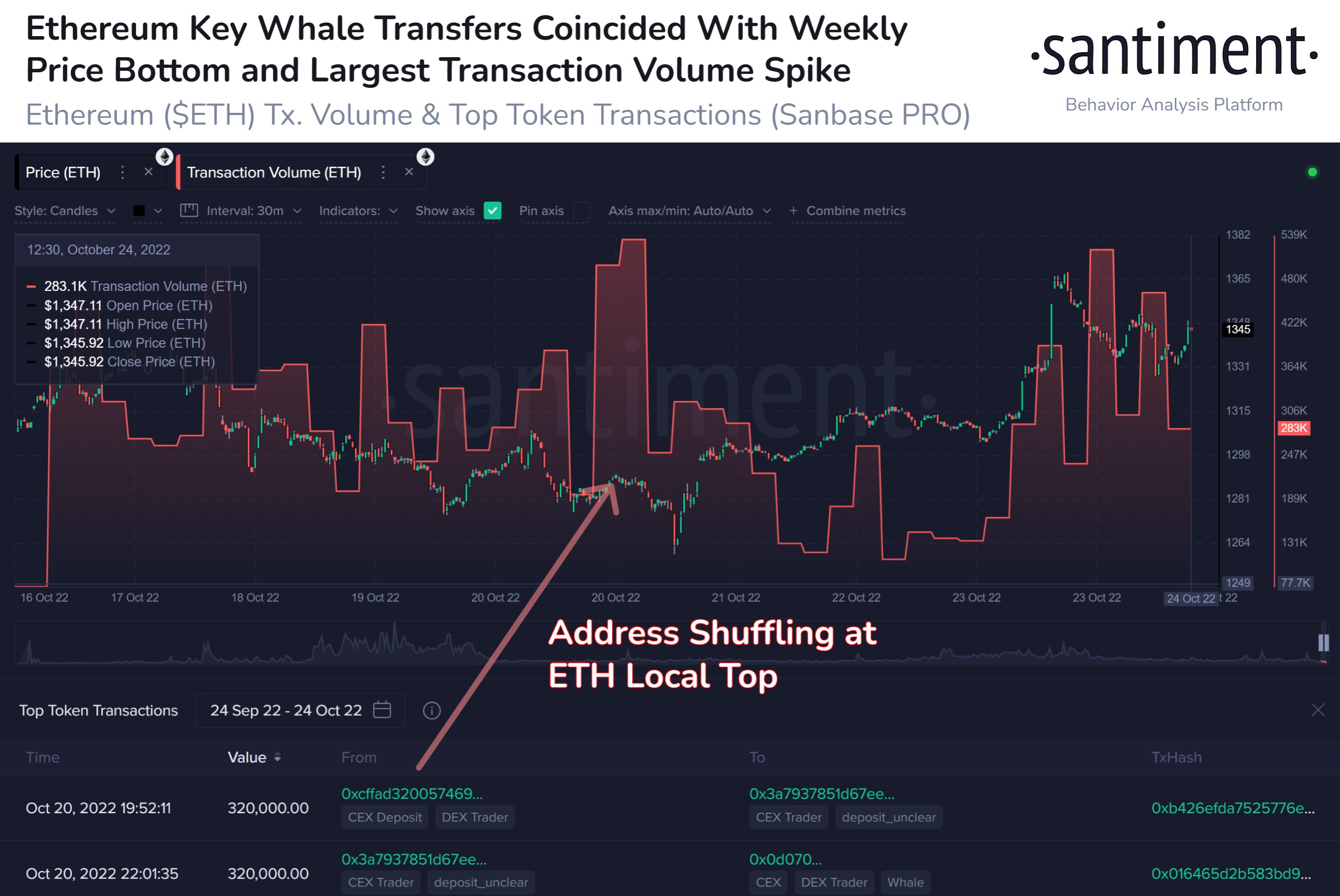 The crucial whale transfers took place as the price of ETH slowly dropped from its peak of $1,342 on October 18. Santiment points out that the price of ETH dropped and then sharply rebounded within seven hours after the massive 320,000 ETH transaction.
Ethereum reportedly touched a low of $1,270 on Thursday and continued to decline until Friday, when it reached $1,254, before quickly recovering, according to Tradingview statistics. As a result, the price of ETH continued to rise for an additional two days, peaking on October 24 at $1,370 before falling. At the time of publication, ETH was changing hands at $1,410, marginally up in the last 24 hours.
ETH/USD 4-hour chart | Source: TradingView
The long-awaited merging that changed Ethereum from a proof-of-work (PoW) to a proof-of-stake (PoS) consensus mechanism took place in September. Although daily ETH emissions have fallen by 90% since mining activities ceased, Ethereum's price has not yet responded favorably.
Fidelity, a $4.5 trillion wealth management firm, began with Bitcoin and is now focusing on Ethereum. In an email to its clients, Fidelity announced that, "Institutional Ethereum capabilities are coming to the Fidelity Digital Assets platform on October 28, 2022." The product will only be accessible to Fidelity's current institutional clients who currently trade or own Bitcoin, for which the company started providing services in 2018. The asset manager claimed that following the Ethereum proof-of-stake transition, more investors are starting to view it "through a new lens."
Read more: