$7B secured by Chainlink network – Will LINK price increase?
The total value secured by the Chainlink network has officially surpassed $7 billion, marking an important milestone for a decentralized oracle solution. Protocol co-founder Sergey Nazarov proudly declares Chainlink has become "one of the most valuable forms of decentralized consensus assurance on the planet". It is also one of the fastest growing networks of all cryptocurrencies.
"2020 was a year of record growth for the Chainlink Network. Here's an overview of key metrics, like our adoption in DeFi, implemented research, & blockchain integrations".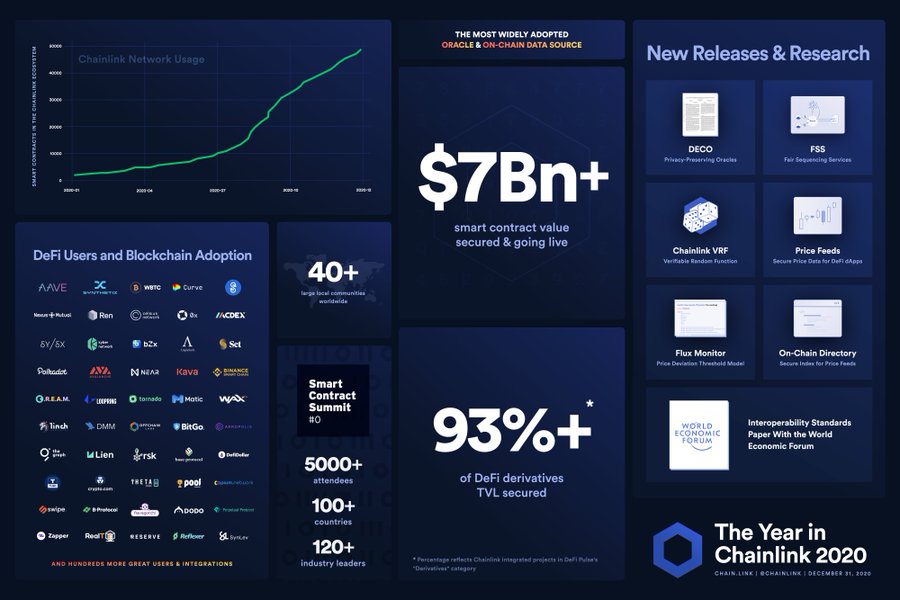 Source: Twitter
Chainlink, consisting of independent oracle nodes, has been rapidly integrated on several leading blockchains, including Ethereum, Binance Smart Chain and Avalanche.
DeFi apps built on these and other blockchains use the oracle Chainlink network to power their smart contracts, bringing market data to on-chain financial applications.
Since the mainnet launch in May 2019, Chainlink has launched over 700 oracle networks,
secured more than 600 million data points on 10 blockchains. The network introduced an average of 1.4 new partners per day in 2021.
The demand for oracle services has grown exponentially with the arrival of DeFi. Measured by total value locked (TVL), the DeFi sector is now worth more than $253 billion. By the time Chainlink launched its mainnet two and a half years ago, the industry still didn't exist.
Source: Defillama
Nazarov is excited about the growth of "metaverse" technology, marked by Facebook rebranding as Meta, as Chainlink "provided many Metaverse applications on DeFi, NFT and gaming".
What about LINK price?
At press time, LINK is below the $33 mark, which is its immediate resistance. Once this key resistance is broken, it can be determined whether LINK will rise further or fall back as it did in September.
LINK stuck below $33. Source: TradingView
Since the movement of LINK is somewhat isolated from the broader market, it is difficult to determine which direction the price will move.
However, altcoin will have to depend on the growth of the network to see price increases on the chart. Therefore, investors are not making any big moves at the moment.
Furthermore, retail traders have entered the game rather cautiously. For example, although over a million LINKs could be sold in the next 24 hours, most of them will be bought back, although not 100%.
This is likely why there has been a steady increase in supply on exchanges.
Source: Santiment
Notably, over 1.7 million LINKs have been sold while 1.4 million tokens have been purchased at the time of writing.
Source: Intotheblock
Finally, whales have been quite active throughout October, with an average volume of $32-$38M. Whales cannot be ignored because 65% of the LINK supply is in their hands.
Source: Santiment
In fact, because the top 1% of addresses hold 86% of the total LINK supply, retail traders do not have many opportunities to make a significant difference to the movement of assets.
Source: Glassnode
Therefore, unless investors make some drastic moves, LINK still has to depend on a combination of factors to grow.